It amazes me..still! I'm not talking about the tiger.( He made a rather tiny cameo appearance, more like a peek-a-'butt' literally, much later in the story.) I mean it shouldn't. Its not like I took a break from the country & have come back to discover that the separation did no good to the systems here! Its like we want to embrace technology but are afraid that the coupling will produce something worthwhile, so we stop before finishing the good job! But enough of the griping & on to the raison d'etre; the facts & story behind it.
So, we decided to do this 'clan' holiday &, as is with all clan issues I suspect, it went back & forth till the last minute. The final toss up was between Pench & Ranthambore. I din't care as long as I got to see the tiger, a long cherished dream. To see one in the wild….ah! If it even looked at me I would want to hug it probably! And what a bad idea that would be! Providence has ensured against that eventuality. So Bandipore, Corbett  & now Ranthambore National Park done and all I've got to tell is about this hint of a tiger's butt, artfully framed by the bushes!
In our short trip to Ranthambore we went for two safaris, one in zone 5 & the other in zone 6. Zone 6 was first & in the afternoon. It was beautiful – open, rolling countryside, winding streams, spread out trees with enough prey base of the tiger in sight. You say it we saw them all, Bluebulls, Spotted deer, Chinkara (Indian Gazelle) & Sambar deer including one rubbing its antlers on a tree right off the road, tufts of grass hanging on them, oblivious to everything but his itch! Although we had been warned that the two almost grown up cubs – Jai & Veeru (The legend of 'Sholay' lives on!) had recently moved out of the zone, we managed to catch a glimpse of sleeping 'Kumbha' right at the end of the zone. He was so well camouflaged between a boulder & these bushes I wonder who spotted him first. He din't even deign to acknowledge the loutish crowd of humans with a raised head & dirty look. We would have settled for anything! The best bit for me, besides the animals & the scenery was that I got to sit right in front along with the driver since there was no guide in the Canter & we had some pretty interesting conversation. But they all are like F1 drivers once the job is done!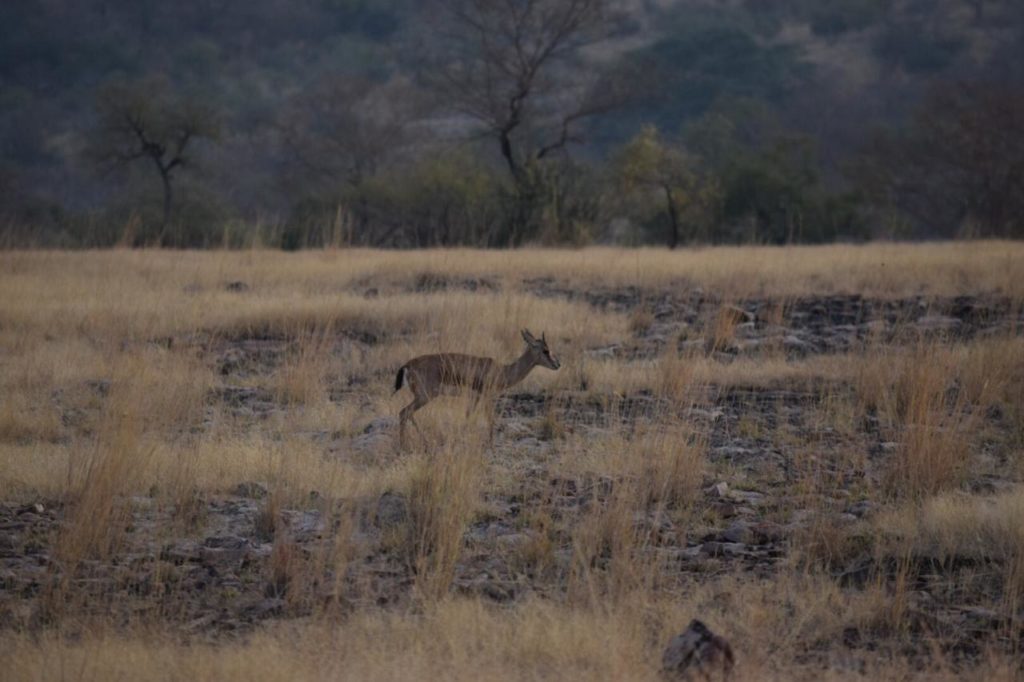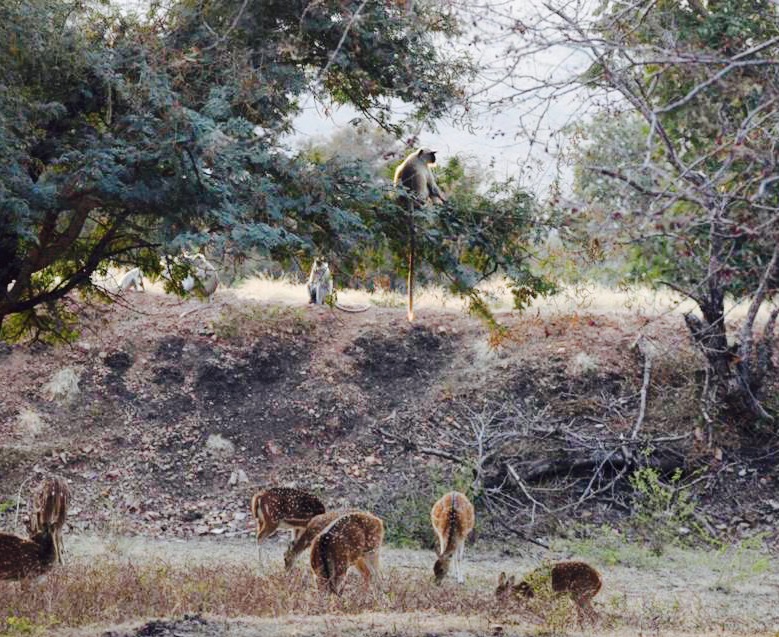 Even in Zone 5 the next morning the driver did not let up as we raced around chasing the elusive 'Laila' seen moments before by this Canter load of people with Cheshire grins. All the other animals, Sambars with magnificent antlers, wild boars et al fell by the way side. Zone 5 is a narrow valley mostly with a swampy lake, rocky streams & massive old banyans with their roots thrown down far & wide. We spent a lot of time listening to the 'call'. The sign of a tiger in the vicinity. The colours of fall, shades of orange & yellow are so deceptive & play tricks on hopeful minds.
Now to the facts which needed to be dealt with before the trip-
1.All the bookings for the Ranthambore tiger safari are only online now on a first come first serve basis.(Hurrah!) But the number of vehicles being allowed inside per day has been capped.(Understandable I guess)
2.You need to book online sufficiently in advance ( Online booking now can be done a year in advance), especially if you only want a gypsy & want only particular zones.(There are 10 zones & 1-5 are considered the core zones. There are ample sightings in the others too.) In some zones only gypsies go.
3.But, & this is the part that totally confounds me & seems to defeat the purpose of online booking is that, you still need to go Shilpgram (Where the ticket office is) once you are there in Sawai Madhopur, to collect your physical ticket (Must give ID proof…again!) get the vehicle & driver's number, give the pick up point ,i.e, your hotel address.(That is the upside in a sense, unless your co-passengers are in a hotel across town. Then you go on one sight seeing trip in town & it eats into the safari timing.) The end result is that you need to get in line at the Shilpgram nonetheless or give about 100/-rupees extra per person to some tout/your hotel to have them collected, despite doing everything online. (Big bummer!)
4.For the afternoon safari, it has to be done the same morning and for the morning safari it can be done the evening prior but the vehicle & driver's number will still be intimated in the morning only. (Nerve racking!)
5. DIY people's link guide – http://www.tourism.rajasthan.gov.in/plan.html (This is the fairly new site with the dancing mustache/camels.) You will need to open an a/c to do your booking online. There is an entire pdf to help you through within the same site.
6.Lazy/Confused people's guide – The hotel where you stay might still do your booking for a premium of course but they too will have to collect them hours prior to the safari.
7.Keep those IDs handy. They are checked at the entrance of the park sometimes.
We got lucky while booking as a cousin planned her trip right before ours. They got lucky because they saw Jai & Veeru, a sloth bear with her cub & a well-fed panther!! Maybe there is a karmic quota for sightings & not just for vehicles & tickets….